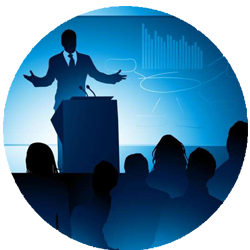 Keynote
Paul Hatrak is an excellent Keynote speaker on a variety of subjects. His easy-going style and amusing antidotes ensure that audiences pay attention and leave feeling like they have learned something.
While the topics listed are some of the subjects that are in demand, Paul can also customize content to suit your event. Just give us a call and we can discuss your needs and we will create a Keynote address to fit your needs.
-The Top Seven Ways to Communicate for Success
-How Folding Time can Catapult You Top Achievement
-Don't just Dream about Top Team Performance
-Be the One to Make the Rules and Make the Gold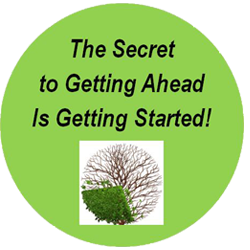 Motivational Topics
Team motivation is a very important ingredient for any company. It is important to education while also not losing site of the entertainment value! We can provide short breakout session topics, or present in a
workshop atmosphere. Below is a list of idea starters. However, if you have a specific area in mind, we can develop content to fit your need.
Start with Making Your Bed
Sometimes all we need is a bit of discipline to really get our day started. Taming the bed sheets can give you a wonderful feeling of being in control!
Folding Time
This is a unique look at a new way of managing time. Learn how to do more with less time!
Clarity of Communication
How we communicate with everyone around us shapes who we are and ultimately shapes our world. How can we make sure we are being successful? This short introduction to the DISC way of thinking about communication will be a great motivator for your team!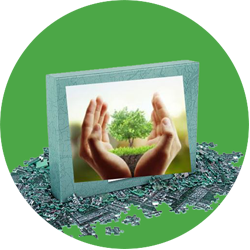 Creating the Picture on the Box
When it comes to putting together a puzzle, the most important piece is the picture on the box. Once you know what you want to achieve and you have a clear picture, you can then put the puzzle together and achieve 'picture perfect' success.
This overview presentation will outline what is needed to get clarity in your business so that you can build for the future.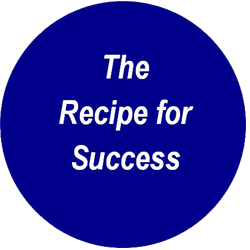 The Simple Recipe for Success!
Achieving success can be simple – once you have defined what success is to you. Once you have the destination in mind, you then need to set about acquiring the skills, knowledge and above all, ATTITUDE! (have you heard the one about how your Altitude is determined by your Attitude?!?!?)
What to be successful? Then begin with the simple recipe of determining what is your 'why'. Your 'why' should also be your passion – if you are in love with what you do, then you will never work another day in your life!
This simple presentation will give you the basic building blocks for creating your own Recipe for Success!.

Catherine DeBerry
21st century librarian / Business Outreach Specialist / Event & Program Planner Warren Library
I have known Paul for a few years now through various networking organizations including the Warren Township Chamber of Commerce. He has become a wonderful resource. He is always willing to help and has provided me with great advice as to how I can improve my outreach efforts to the small business community. He is a fantastic public speaker, has impressive networking skills and is a great communicator! Paul commits himself 100 percent to any endeavor he is involved with and would be a great asset to any organization.

Eryn Giuliano
Director Of Admissions at Allaire Rehab + Nursing Center
As I embark on my latest career path, I had the opportunity to meet Paul at a local networking event. Out of the 100's of business cards I brought back to the office, his image left a lasting impression that I didn't even need to refer to a business card! Paul lights up what could be a bland gathering of business to business relations that I welcomed, with open arms, the opportunity to have a 1:1 meeting. Not only has Paul provided me with guidance but also gave me the clarity that I have been searching for as I build my career towards success. I plan to utilize his tools in business and highly recommend those searching for a mentor (not a Sales coach) to contact Paul.

Dave Rounds
CPA Company NameSKC and Co., CPAs, LLC
As anyone can tell you, Paul is a dedicated and knowledgeable business coach. But even more importantly, he is a rare breed of businessman: one who truly believes in his message and enjoys helping others realize their potential. His professional advice has been invaluable to me. I believe that anyone, at any level of professional experience, stands to gain a great deal from even one conversation with Paul.

Jean M. Angelo
Health Insurance Consultant and Sales Professional Strategic Group Insurance Solutions
I met Paul a few years ago at an event run by the Somerset County Business Partnership. I then had the opportunity to hear him present "Communicating For Success" and have heard him speak several times after that. His discussions are interactive and informative. Paul has the ability to connect with his audience and convey difficult concepts in easy to understand language. He is passionate about his craft and looks for ways to help business owners take their game to the next level. Paul will be a welcomed speaker at your next event.

Lisa Patrick
XTRAcredits E-Learning St. Albert, Alberta
Paul is truly a visionary coach who inspires those around him to recognize their own path to greatness. He approaches his relationships with humility and is willing to commit 100% of himself to the commitments he makes and is accountable to the actions he takes. Clearly guided by principles and values with sound professional experience in the Finance area and now with his guidance, will help clients to accomplish goals and obtain results.

Brad Bischoff
Regional Sales Director AutoPoint, A Solera company
I met Paul through the Morris County Chamber and hope to continue to have strong relationship with him in the future. Paul does not fit the stereotypical mold of a CPA, his approach is by far one of the most unique approaches I have ever experienced. He has demonstrated a wealth of knowledge working with business owners helping them achieve their next level of success. If your business is stuck in second gear, and would like to advance I would highly recommend speaking with Paul and what FocalPoint can do for your business.